We are back again for more SDCC, and this year things are weird for us because, for the first time since we started covering Comic-Con, we can watch the panels! As usual, we have a lot of coverage heading your way over the next few days, but to kick us off we have an action-packed Thursday with 11 panels! Just a heads up, a lot of the panels are much shorter than what we would sometimes expect with less scope for news due to the world that we are all living in, but we do still have a long article for you.
Star Trek Universe
First up is the announcement of the title and cover art for the new Nickelodeon show announced last year, Star Trek Prodigy which is set to premiere in 2021. Aimed at a new generation of fans, the CG-animated series will follow a group of rebellious teens who commandeer an old Starfleet ship and head off into the universe for adventure and more.
In terms of Strange New Worlds, 10 storylines have already been broken and will be waiting in the wings for a Post-Covid world. Star Trek Discovery will also return later this year.
Last year we shared the announcement of a new entry to the Star Trek Universe, Lower Decks. This year we were treated to a scene from the show and news from creator Mike McMahan who has said that the series will take place in 2380. It's in The Next Generation era right after Nemesis but will be set before the events Star Trek: Picard.
Keeper of the Lost Cities
This one was a nice short panel discussing the new book in the 'Keeper of the Lost Cities' series, Legacy, by Shannon Messenger, which is out in November 2020. There was also a brief discussion about 'Unlocked' which is one part guide with fan art, and one half being a continuation of the story in the form of a Novella which is sometimes in different characters POV but will still be in 3rd person narration.
Truth Seekers
A new series from Simon Pegg and Nick Frost, Truth Seekers will be dropping globally on Amazon Prime Video later this year. The series is based on a group of part-time paranormal investigators who team up to uncover and film ghost sightings across the UK, sharing their adventures on an online channel for all to see.
This short panel also dropped a brand spanking new trailer for us all:
Marvel's 616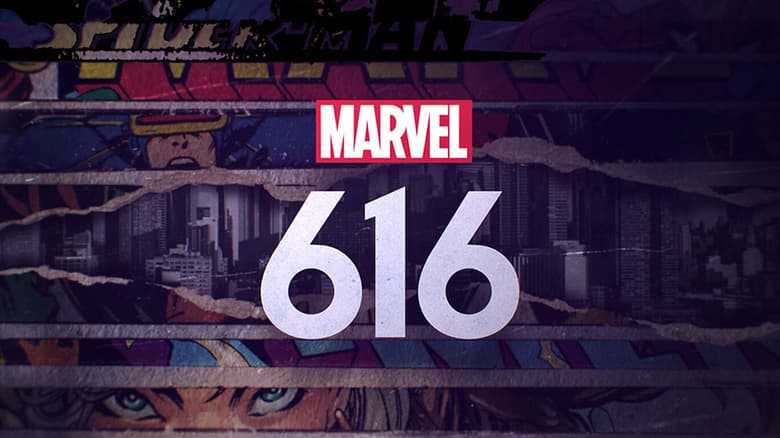 A docuseries anthology coming to Disney+ about pop culture, characters and Marvels fan base with each episode being like a mini-movie and each created by different directors? Sign us up!
We were treated to a few clips from the anthology itself, clip one is all things Ms Marvel and how groundbreaking it is to have a Muslim woman editing the comic book and be about a Muslim female Superhero.
Clip two touches briefly on Black Panther and takes a small look at the 'superpowers' of some of the lesser-known heroes and villains.
According to Sarah Amos, some episodes will make you laugh and some will make you cry. Either way, we are so excited for all of the episodes.
Amazon's Utopia
An Amazon Original series, Utopia is the remake of the Channel 4 show in the UK of the same name. Taking on a grittier and darker tone, Utopia is a thriller series which explores a group of young comic book fans who learn that a conspiracy in a Graphic Novel is real and that it is up to them to save the world.
The trailer above was released today, as well as the news that it will air on the streaming service this Fall.
His Dark Materials
Did you ask for a Season 2 trailer, because we got one right at the very start of the panel.
As if that wasn't enough, we learned that Phoebe Waller-Bridge will voice the Daemon of Andrew Scott's character, John Parry, reuniting the Fleabag duo.
Season One is coming to Digital, DVD and Blu Ray in August this year, just in time to catch up before season two later this Fall.
Horizon Zero Dawn Comics
This new comic book series kicks off with the final frame of the game, meaning there is no gap at all and will take place directly after the events of the game.
It was announced that there will be new machines, new locations and new characters while focussing on the natural world, the machine world and on the tribal world to layer on this world of Horizon that we all love.
Issue One hits shelves August 5th and for us, it is a must-read before the release of Horizon Forbidden West later this year.
The New Mutants
We almost missed this panel because despite SDCC being at home this year, it still has a huge programming list. We opened with a short teaser showing all the prior release dates with it lingering on the latest one, August 28th, before showing off the new emojis for the hashtags on Twitter.
Again this panel was brief, but we were treated to the first two minutes of the movie which you can see below:
NBS's Superstore
Want to know all about the essentials for SDCC @ Home? The NBC Superstore panel has you covered with the first three and a half minutes of its panel
Not wanting to give away any spoilers for the new season, the panel focused on the last days of filming as well as some tidbits from the writing room and never made it into the show.
It was thought that Jonah corporate spy sent to Cloud 9, which was inspired by raccoons that live on the soundstages.
There was also the idea that over the season, Sandra would go bald with the stress from planning her wedding and that Carol would show up and sing satisfied at wedding to give the cast the musical episode that they all want.
LGBTQ In TV – What's Next?
This panel was a discussion, and as such there was no news, but we did want to touch briefly on a few points that came up in terms representation now and of what is next for the LGBTQ people seeing themselves in the media. Yes, this will be a collection of quotes, and yes, if you are checking out this article, we are a website with a focus on Queer Media so all of these quotes resonated with us for where we also want the industry to go in the years to come.
"It's harder to legislate against someone when you've spent every Thursday night relating to them."  Brian Michael Smith
"As a born nerd, I can safely say there's a large heart of the nerd community that is queer and that has been hungry for this representation."  Anthony Rapp
Brian Michael Smith wants to see more intersectionality in Queer Rep with Wilsom Smith wants to see a larger spectrum of representation stating 'Queer POC joy is a revolutionary act' with Anthony Rapp looking for more Non-Binary Representation.
'It's completely changed my life, that connection to the community and to the clone club' said Tatiana Maslany who believes one of places we could make greater strides in broadening the spectrum lays behind the camera in writers' rooms, in production, and in the POV of the camera.
Jamie Clayton wants to have the same opportunities as any actor who identifies as cisgender and to be more than a character just to talk about their gender or transition. She also wants to not be the only person on set who is Trans.
Van Helsing
Again, this was a shorter Q&A style panel, which a lot of panels seem to be going for this year due to schedules being interrupted meaning it is taking longer for people to get back to work in the industry to create our stories. This hasn't slowed Van Helsing down much though as they are back filming in Slovakia and have been for a week.
It is due to come back later this fall, with a date announcement expected in September for season 5 where Jonathan Scarfe directs four episodes.
Elsewhere in the FanZone…
Avatar 2 has been pushed back to 16 Dec. 2022, meaning all other Avatar movies are pushed back a year in production as well due to Covid-19.
Mulan has also been delayed again and has been removed from Disneys release calendar.
The Boys is coming back for season two with a new trailer here.
The next Star Wars Movie has also been pushed back to 2023 with subsequent delays down the road.
Did we watch more panels than just these today? Yup! We sure did! We kept our coverage to just these which had some news (or some very important points that we all need to consider for this industry going forward in terms of representation for everyone). We will be back tomorrow with yet another full roster of panels coming your way!