SDCC Saturdays usually have the theme of Superhero Saturdays here on Fangirl Den, but this year is a little different with the whole lack of Marvel and DC this year, but at least we still have one of our usual panels to bring you coverage from. Shall we jump right in?
Disney+'s Phineas and Ferb The Movie: Candace Against the Universe
We have quite a bit to share from this panel. Firstly is a sneak peek of the first song from the movie, 'Such a Beautiful Day' sung by Candace, which you can watch above.
The movie itself has been described as a 'Lost Episode' set in the midle of the show.
In terms of cameos, we have Ali Wong as Super Super Big Doctor,  Thomas Middleditch as an alien Diedrich Bader and Wayne Brady. We also have some special cameos from Dan and Swampy who have a brief cameo.
Phineas and Ferb The Movie: Candace Against the Universe is set to air on Disney + on August 28th.
Guillermo del Toro and Scott Cooper on Antlers and Filmmaking
Antlers looks at the horrors of today and at what it means to be in America today. Cooper stated that the pair wanted to 'show the world as it really is'
We were treated to an exclusive featurette:
For All Mankind
This panel was super interesting in the way that it was split up into three sections, The women of the show, a discussion on epsiodes 7 and 8, and then looking forwards to Season 2.
The first part of the panel looked at the women of the show and the roles they all play as well as the role overall of women. We have curated a selection of quotations which stuck out during this discussion and on the subsequent discussion on episodes 7 and 8.
'Women don't have to be pitted against men to have a place in society. We can just be there in addition to and be allowed to contribute and just trust that contribution will be worthwhile' – Krys Marshall.
'We still get lost sometimes because we are conditioned to care for so many people and hold the space for so many people that we end up neglecting yourself in the process.' -Sarah Jones on playing Tracey Stevens who later went on to say 'I matter, I'm enough and I'm going to do this.'
'I think when you lock out 50% of your population from bringing all of their talents and intelligence to the things they love best, you really lose out by not having those resources…Plus women are awesome.' – Wrenn Schmidt.
'As a woman, as a black woman, people will observe you and see you as a signifier for your gender, for your race, when you enter a space.'- Krys Marshall on playing Danielle Poole and Dani's decision in episode 8.
So what can we expect from season 2? Well, it is set 10 years in the future in 1983 for starters. Ronald Raegan is the President and the Cold War has begun to heat up. There will be 80's music and fashion but 'it's not hitting every cliche and is a realistic look at how things could have advanced'.
What about the characters we love? Ed and Karen have already gone through the process of grieving for Shane, but there are missing moments that we do not see. Shantel VanShaten kept a journal of over 200 pages filled with these missing moments throughout the last 10 years to get into the headspace for where Karen will be now.
What of Gordo and Tracey? Well Gordo has lost all hope and has had to have a look at the decisions he has made that have put him where he is now. Tracey is now a 'bonafide celebrity' after her heroics. 'In a way, that is a double edged sword. On one hand there's a feeling of validation to what she's doing and that she really worked her way to where she is. On the other hand it's not what the NASA program is about' stated Sarah Jones, who went on to say that there are 'two common threads in season one and two for Tracey is that source for validation and she has to find it for herself. She realises in season two it needs to come from herself.'
And yes, we are treated with an exclusive clip for Season 2 (which looks AMAZING!)
HBO's Lovecraft Country
This panel, like the show, tackles a lot of real life issues that we are seeing today. Set in Jim Crows 1950's, this show focuses on Black pain and Black Joy -'to go back to the black love thing to me that is so enriching that in a story like this that does involve black pain, is that there is also black joy, which is not something we always see in a story like this'.
The pilot episode opens up with "real grown-up Black love" and it is something we will see throughout with the family focus of the show.
This show will not hold back in showing us the ways in which society has not changed today from what it was 70 years ago. 'Racism etc, that's what we're talking about, that's what we are showing, in technicolor, and so many folks dont see that, they keep driving by.' 'at what point are we all going to say 'thats enough now?' everyones got to be treated the same way until they reprogram the police.'
You can view this panel here and catch Lovecraft Country August 16th at 9pm on HBO.
SYFY: Wynonna Earp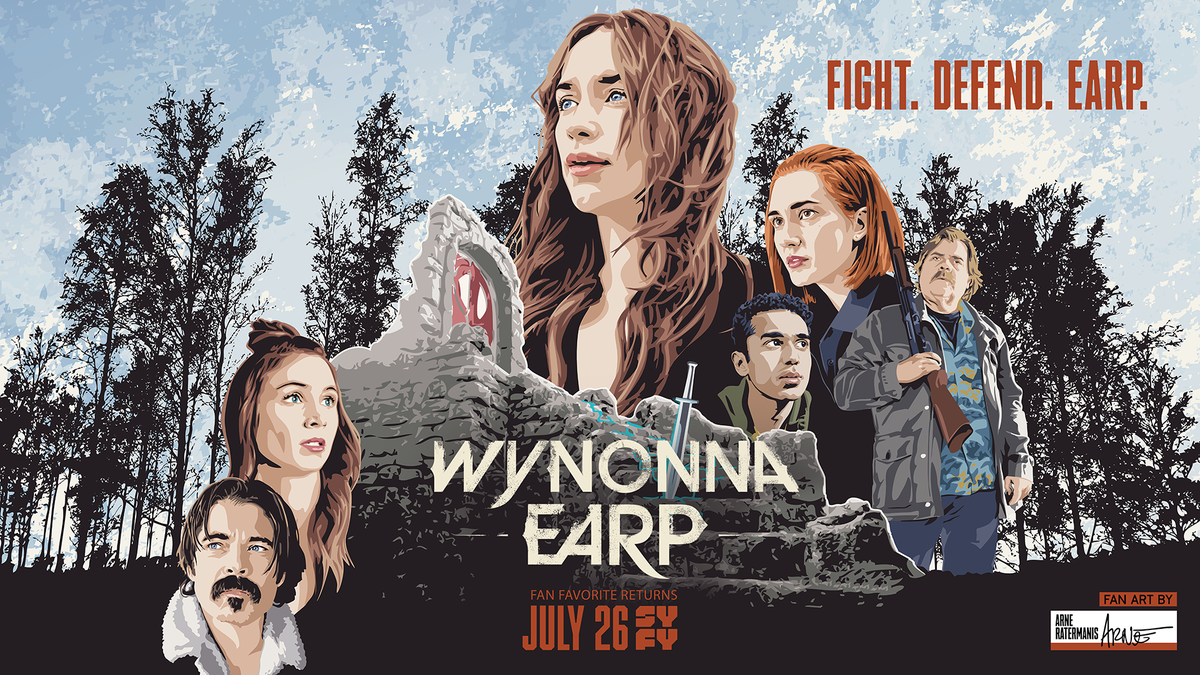 Need a refresher on what has happened so far?
The panel itself was split up into a few sections, with Fan Answers, Cast Trivia, Impressions and a Sneak Peek at Season 4.
When asked what the feeling is that you get when you step on the set of Wynonna Earp, we received the answers of 'Home, family, ease and magic', and we can confirm that these are all the feelings we felt jumping back into covering this show this year after such a long time away.
Everyone loves a good Yearbook superlative right?
Lastly, we received some content that we have all been waiting for for 84 years (well, two years but who is counting?)
Season 4 airs tomorrow night (Sunday July 26th) at 10/9c on Syfy (and we cannot wait!)
And that is it for today's coverage. We know this article is a little shorter than usual, but we covered fewer panels today in general. We did check out some others, like the Bill and Ted panel, What We Do In The Shadows and The Order, so check out our Twitter for those. Tomorrow we have panels for Motherland: Fort Salem and The 100 before moving on to a few industry panels so tomorrow will be a short day, but don't worry. Tomorrow WE EARP!